Does COVID-19 Induced Occupational Stress Moderates the Relationship of Spiritual Motivation and Academicians' Tacit Knowledge Sharing Behaviour Among South Asian Higher Education Institutions?
Keywords:
COVID-19 Induced Occupational Stress, Spiritual Motivation, Tacit Knowledge Sharing Behavior, Higher Education Institutions, Eu-stress, Conservation of Resources theory.
Abstract
The COVID outbreak has frazzled many employers to research how to upkeep and boost the performance outcomes continuously. It is even trickier in Higher Education Institutions (HEIs) when they have hibernated from conventional to cyber universities due to the COVID pandemic. It is relatable to motivate and retain the knowledge workers persistently. Therefore, this study is designed to investigate the impact of academicians' spiritual motivation on their tacit knowledge sharing behaviour, with the moderation of COVID-induced occupational stress. The population embraced the academicians of Pakistani Higher Education Institutions. ~289 academicians were considered as the sample size. Descriptive and inferential statistics (linear regression) were performed in SPSS, whereas; 'Hayes' process macro' was used to test moderation. The findings designate that academicians' spiritual motivation is significantly and positively associated with tacit knowledge sharing behaviour—moreover, COVID-induced occupational stress moderates their relationship. Consequently, the results bequeath the policymakers and the relevant authorities of HEIs, with valuable propositions on how to upkeep academicians' tacit knowledge sharing behaviour by considering COVID-induced occupational stress as eu-stress if they are spiritually motivated. Profuse suggestions were also presented to future researchers to further look into the anticipated study model.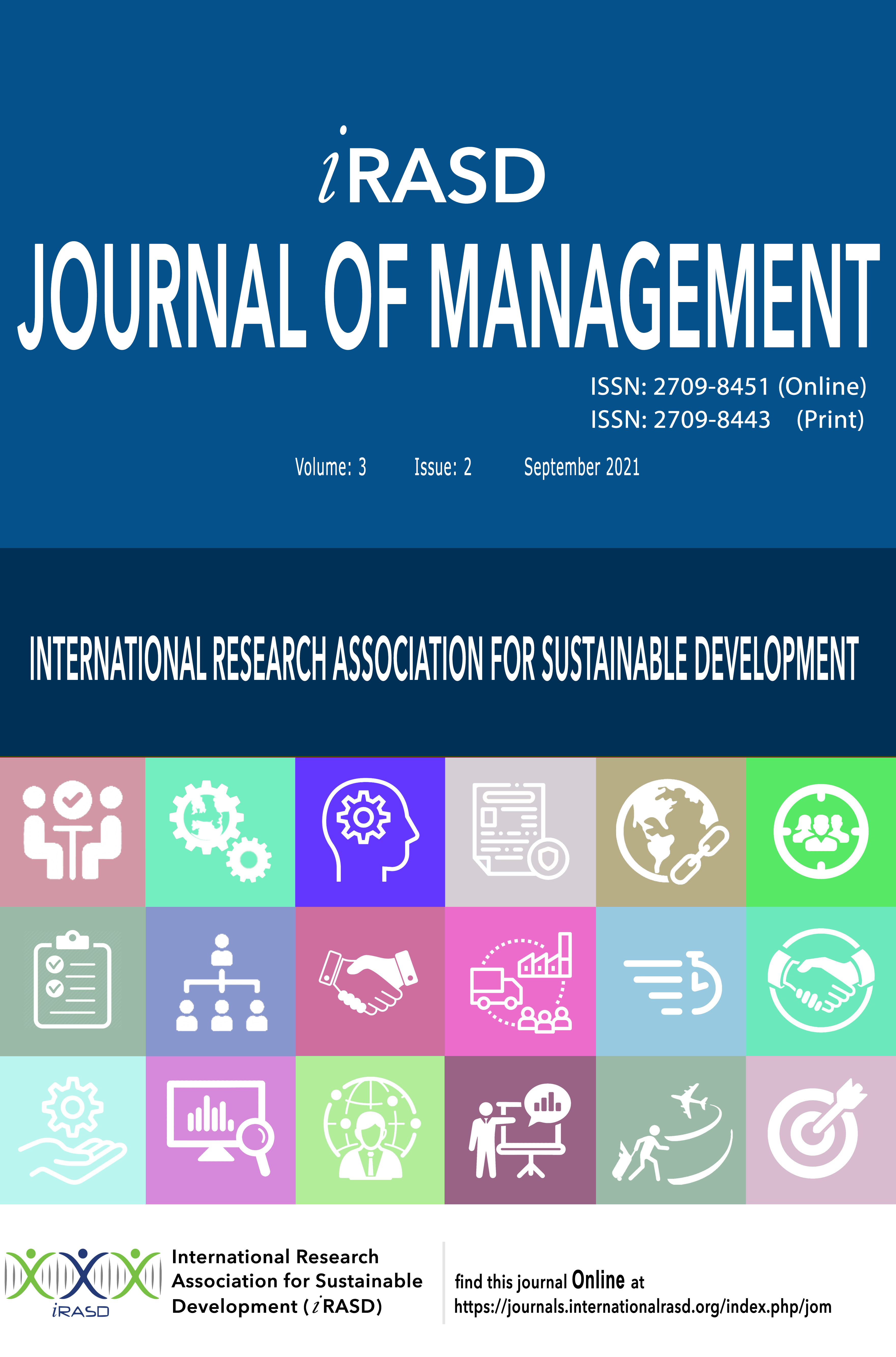 Downloads
How to Cite
Shahzadi, I., & Raja, M. W. (2021). Does COVID-19 Induced Occupational Stress Moderates the Relationship of Spiritual Motivation and Academicians' Tacit Knowledge Sharing Behaviour Among South Asian Higher Education Institutions?. IRASD Journal of Management, 3(2), 114–125. https://doi.org/10.52131/jom.2021.0302.0031